Wednesday, April 16, 2014
Top 3 Faux Pas That Can Scare Off Buyers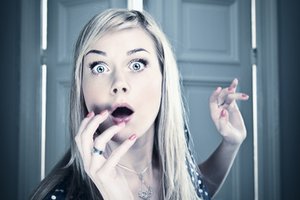 So, you're finally ready to get your home on the market and sell your property. Great! But before you put up that open house sign, make sure your house is not guilty of displaying the top 3 faux pas that can scare off buyers.
1.) Do you smell what I smell? There's an old adage in the real estate industry. "If you can smell it, you can't sell it." Potential buyers don't want to walk into you home and be assaulted by the smells of pets, mold, stale cigarette smoke, or unpleasant odors. I've shown many homes, and I can't tell you the number of buyers I've had not even finish a home tour because of bad smells. Buyers want to envision themselves in your property. Don't give them a reason to turn and run. Be sure to change your air filters and rid your space of nasty odors. Not sure if your home can pass the smell test? Your real estate agent or an honest, trusted friend can help you make sure your home comes out smelling like a rose.
2.) Clean up clutter. Time and time again, I see countertops and tables covered with dishes or figurines, refrigerators hidden behind clunky magnets, walls plastered with photos, and so much furniture in one room buyers can barely scoot by without knocking something over. The key to attracting buyers is to, whenever possible, keep it simple. Because they want to visualize their own items in your house, the less of your stuff they see the better. Removing clutter opens up a room and makes it more spacious, something most everyone is looking for. So clear off those counter tops, file away that stack of untidy mail, and pack extra furniture, books, and space stealers away.
3.) Take care of your space. Ripped up screen doors. Broken gates. Overgrown weeds. Stained carpets. Wear and tear of a home is normal, especially if you've lived there for a long time. But items that show your home is in desperate need of maintenance can scare potential buyers away. It's in your best interest to make cost efficient repairs to your home so that buyers won't be deterred by the possible cost of fixing things themselves. Keeping your home well-maintained and staying on top of repairs can mean the difference between a sale and a fail.
If you need help getting your home ready to sell and want to avoid faux pas that could scare off buyers, please contact me today. -Lisa
602-762-3691
Join me on Facebook!