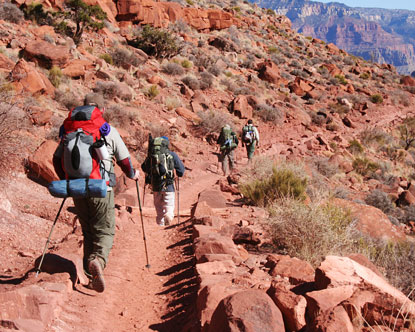 Now with temperatures in the triple digits, the mountains are all the more dangerous for hikers and emergency crews. Six people died during one weekend in June on mountains around Arizona as the heat hit record highs, proving the trails can turn deadly for even the most avid hikers if they're not prepared, especially during the summer months.
Most people who end up needing to be rescued have hiked farther than their ability — older people with medical issues, visitors from out of town or even young, fit hikers who weren't prepared.
"I think people underestimate the weather and overestimate their ability, and it gets a lot of people in trouble," Buckeye Fire Engineer William Burnett said.
"Please use extra caution and use trails at dawn or dusk when there is more shade and less intense heat," the advisory states. "During the day, full sun temperatures can be more than 20 degrees warmer than official shade temperature, making it dangerous for trail users. Even if you are hydrated, you can still suffer from heat-related illness."
Experts recommend hikers remember these tips for safe summer hiking in Arizona:
About to try a new trail? Keep in mind trail difficulty ratings increase by one level when temperatures are above 90 degrees, so those rated easy become moderate and moderate becomes difficult.
Hikers planning to hit the trails should start preparing early by hydrating with water (not coffee, soda, and energy drinks) the day before.
Hikers should take plenty of water on their hikes, wear sunscreen and a hat, go in pairs and let someone know where they'll be hiking and when they expect to return.
Once you're at half your water supply, hikers are advised to return back.
When hiking a new trail, people should break it up by only going part of the way the first time so they don't reach overexertion, he said. The next time, they can go a little farther as they become more familiar with the trail.
Watch for signs you're over exhausted or dehydrated: clammy skin, weakness, blurry vision, cramps, fatigue, dizziness, dragging your feet, tripping and headaches. Listen to your body and head back as soon as possible. It's not worth the risk to keep pushing forward!
For more tips on safe summer hiking in Arizona or if you'd like to learn more about the best hiking locations in the West Valley, please contact Lisa Bray.
Lisa Bray
RE/MAX Professionals
www.lisabray.com
602-762-3691
Join me on Facebook!