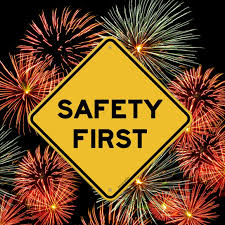 Fireworks and Fourth of July BBQ's go hand and hand. So whether you're planning on traveling for the fourth or enjoying various outdoor activities like boating, cooking out, camping and picnics, safety is the most important factor to remember during this fantastic holiday. Here are the top 4 Fourth of July safety tips to help you enjoy your Independence Day.
1.) Travel: Fourth of July is statistically the most dangerous holiday to be driving on the road. According to The Advertiser, 410 people were killed nationally in motor vehicle crashes during the Fourth of July weekend in 2009 and forty percent of those deaths were related to alcohol-impaired and/or sleep deprived drivers. Please remember to not drive intoxicated, get plenty of sleep before driving, and always wear your seatbelt.
2.) Fireworks: Nearly 10,000 Americans are injured by fireworks each year, according to the United States Fire Administration. Arizona legal fireworks include: Snappers, devices with cylindrical and cone foundations, illuminating torches, ground spinners, sparkling wheels, snap caps, glow worms, snakes, party poppers, toy smoke devices and sparklers are all allowed. Not sure if the fireworks you have are legal? Click here to find out. If you plan to enjoy legal fireworks this Fourth of July, always have a bucket or water or a fire extinguisher nearby.
3.) BBQ's: The Fourth of July is one of the top holidays for outdoor BBQ's and cookouts. In regards to fire safety, never use gasoline to start BBQ grills. For food safety, bring separate plates and cutting boards for raw and cooked foods so that juices from raw meat don't contaminate meat that's ready to be eaten. Also bring cleaning items with you to keep hands, utensils and surfaces clean.
4.) Camping: If you are camping, be sure to check the regulations on fires. Many areas may be closed to all fires (including charcoal grills) due to extreme dry conditions. If campfires are allowed never leave a fire unattended, and always be sure it is dead out when you leave.
Regardless of how you choose to enjoy your Fourth of July holiday, please make it a safe one. Happy Independence Day! -Lisa
Lisa Bray
RE/MAX Professionals
www.lisabray.com
602-762-3691
Join me on Facebook!